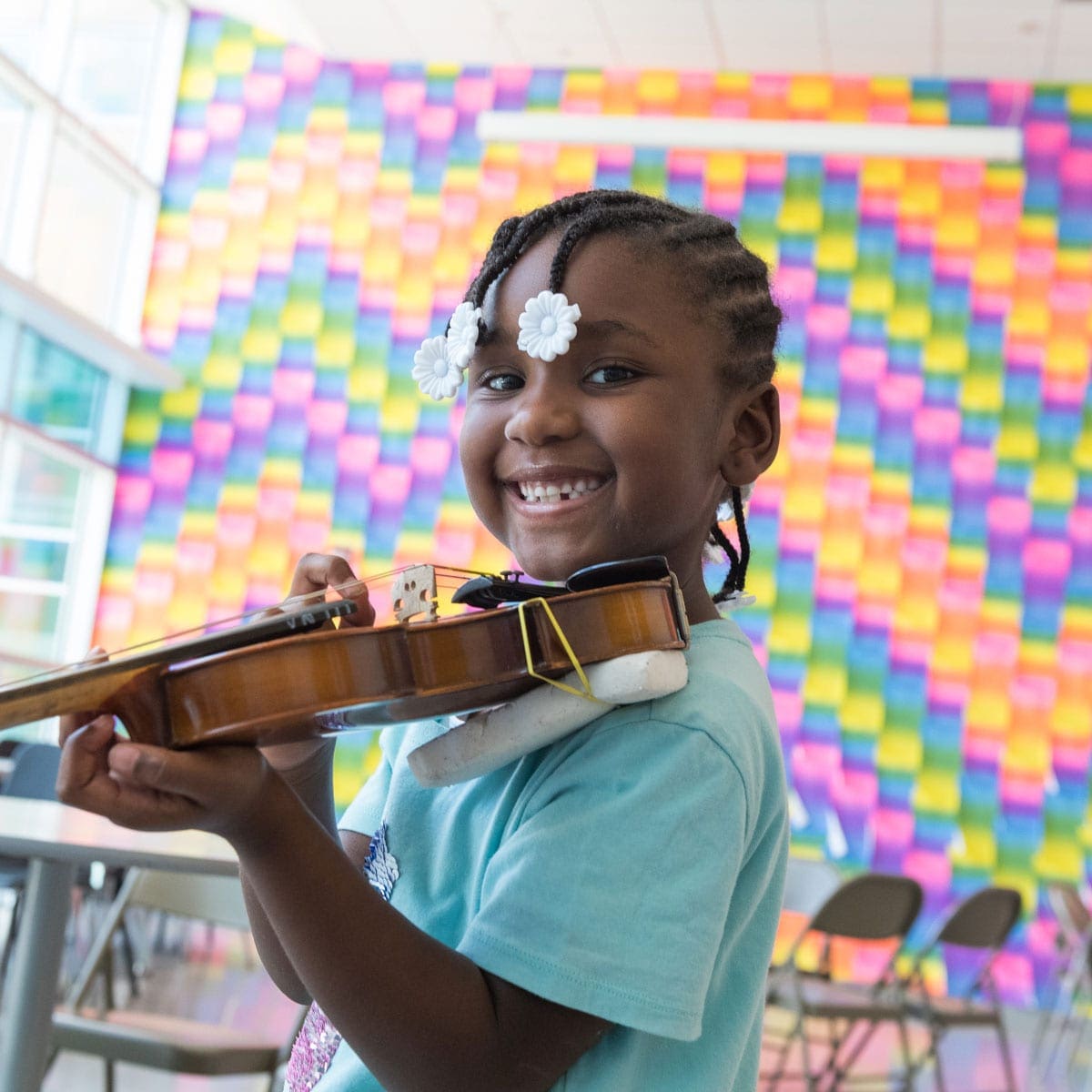 Our Mission
Play On Philly provides underserved children in Philadelphia a transformative music education experience that develops and inspires the behaviors and personal skills needed for a successful life.
We provide intensive music instruction every day before and after school and over 25 performance opportunities throughout the year.
About Play On Philly
Play On Philly (POP) provides high-quality music education to students, who would typically lack access, as a vehicle for life skills and academic achievement. We provide intensive music instruction every day before and after school and over 25 performance opportunities throughout the year. Students range from pre-Kindergarten to 12th grade and are loaned an orchestral instrument at no cost. POP programming has proven results: our students score ten points higher on standardized tests and have improved behavior and study skills. We cultivate musical excellence, lifelong skills, and confidence.
Play On Philly was founded in 2011 by Curtis Institute of Music graduate Stanford Thompson and Philanthropist Carole Haas Gravagno, and now celebrates over a decade of providing high-quality music education at no cost to underserved students in Philadelphia. POP has grown from our flagship Music Center at St. Francis de Sales School to now serving students at 5 locations across Philadelphia.  We strive to engage the entire community through partnerships, community events, and performances in venues across the Philadelphia region and beyond.
Every year, POP students achieve new heights of musical excellence. View the 2022-2023 Impact Report to learn about our young musicians' experiences and achievements.
Programmatic Goals
Play On Philly provides high quality in- and after-school music education and performance opportunities to students with little to no access. These experience nurture lifelong skills and deepen deepen Play On Philly's organizational impact. Students will develop:
Goal-Directed Skills
Goal-directed behavior and skills that increase academic and social success, as tracked by independent consulting firm WolfBrown uses methodology that includes a comparison group of students not in programs and validated measures that test students' executive functions;
Academic Motivation
Academic motivation, achievement, and school attendance, as measured by academic grades and attendance data provided by schools; and
High Level Musical Knowledge
High level musical knowledge and performance skills, which are assessed in bi-annual juries conducted by POP Teaching Artists as well as through recitals and performances.
Meet Sophia, Lori, and Andres, just a few of the special people who inspire us to reach more children with intensive music education programs from Play On Philly.